Makeup Tips For Oily Skin – Do you have oily skin? Worried about that greasy look? Is your face making cakes on the skin due to the skin type? For those who want to look younger, oily skin is a blessing but on the other side, this type is very irritating and needs extra care to handle. This type of skin condition is more associated with active oil glands in the sebum which results in numerous issues. To avoid the made up look of the face, we bring you some makeup tips for oily skin.
The greasiness and cheesy look of the face result in various issues like having large pores, greasiness, blackheads, whiteheads etc and much more! It becomes difficult to have a makeup that lasts longer and looks great as well. The skin being oily results in high maintenance when it comes to fixing up those problems temporarily through powders and brushes. To help you get the best of the cosmetic world, we bring you some of the best makeup tips for oily skin.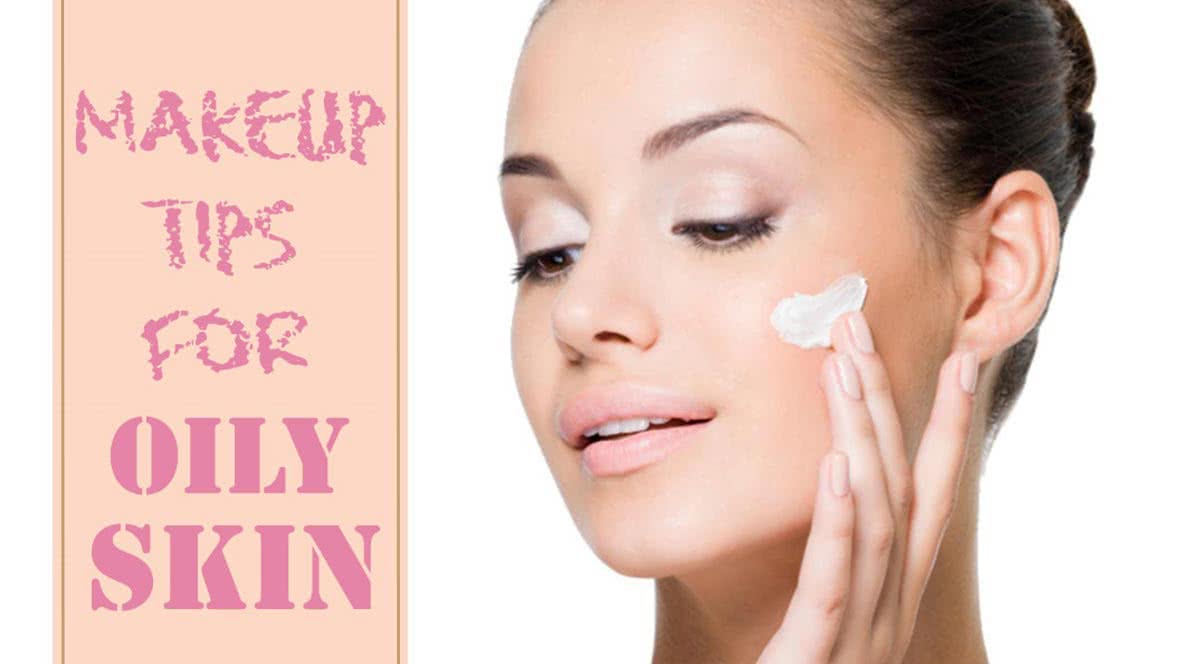 Tips To Do Makeup For Oily Skin Type
Every woman out there is in love with looking beautiful and enhancing the look also. No matter what occasion strikes the door, good makeup knowledge is a must. You would never like to have a look like having powder cakes on your skin or a made-up look which if compared looks to a witch like. Having this skin type is difficult but not impossible to keep up with the perfect balance. Read some good makeup tips for oily skin which are effective and help you get a perfect look.
Cleanse Thoroughly
Oily skin needs to be clean which means free from dirt, grease, and dust. Makeup should never be applied without a thorough cleanup process which will help your skin hydrate and clean the pores to reduce the risk of getting blocked. Cleansing helps open up the pores.
Know some good tips to cleanse your face:
Have warm water and not hot water. This will help open up the pores for breathing as well as loosen the dirt and dust.
Wash you face to the max thrice and to the minimum twice in a day.
Avoid touching the face.
Pat dry with the towel and not rub.
Tone It Up
Your pores are open after cleansing. Oily skin tends to have open pores more often which needs to be closed as well shrink for the enlarge pores. Using a good toner is a great way to have them away from the skin. The main of using it is to balance the active glands and remove the excess makeup, oil, dust etc from the skin.
Know some good tips to tone your face:
Use a cotton ball and gently wipe around the skin.
Avoid any kind of contact with eyes.
Never use a silicone based toner as it is not good for your skin type.
You can use natural toners also like rose water is most common.
Use a water-based moisturizer or a matte finish sunscreen can help you get the look.
Prime It
Makeup is incomplete without having the perfect base. A protective layer to help prevent the clogged pores is essential. Use a primer to help you keep the look the last longer for hours. They have a good effect on the skin without any kind of melting effect on the skin or shine of the face which is a result of oily skin type.
Know some good tips to use primer your face:
Use your finger and apply on the eyelids & separate primer is available for the eyes.
Use it before applying foundation.
It is best to opt for a primer which is powder based or liquid-to-powder base.
Mattifying and oily free should be the main choose while purchasing.
Hide Those Imperfections
Now comes the cosmetics which will help you clear your flaws! Using a good concealer and a foundation is as important to hide those flaws and imperfections on your skin. This help you get the clear skin tone you always wished of. A god trick and way will help you get the look and avoid the breakouts also.
Know some good tips to hide imperfections on your face:
Use liquid matte concealer for your skin. You can use it to hide those dark circles and bags under your eyes.
Use powder foundation having matte, non-comedogenic & oil-free which is best for oily skin as they absorb more oil.
Completely avoid cream based concealer which can cause breakouts and clog pores.
Even mousse based and water based liquid foundation works for you.
Use a brush in circular motion to get the effect.
Powder Your Best Friend
The powder is your best friend when it comes to makeup tips for oily skin. Powder has the benefit of absorbing extra oil from the skin and giving your flawless look.
Know some good tips to use powder to your face:
Use cosmetic powder rather relying on those prickly heat powders which will block pores.
Using a brush, use a translucent matte powder till all the lines disappear.
Apply matte blush which should be powder based as it lasts longer. Avoid the shimmer ones.
Some Essential Tips
Last but not the least we have some other makeup tricks for your oily skin care routine. They are helpful in getting a good look without the grease lines
You can opt for eyelid primer.
Have a blotting paper along with you. When you get the feeling of melting then dab it in the face and have them corrected as it absorbs excess oil.
Or have a leave powder to tackle the grease.
Use a little power around the eyes when you apply the Kohl or kajal to avoid the smudge look or melting black tears on the sides of your eyes.
Use a minimum layer of makeup as possible.
Use oil-free makeup remover which is crucial.
Conclusion:
Oily skin is troublesome many times but a great keeping can make things easy. Makeup is an art and should be done with wise knowledge to avoid the breakouts, pimples and many in near future. Be wise and choose carefully for your skin.