How to Remove Blackheads Using Hydrogen Peroxide – Want to get rid of those black dots on the cheeks and especially nose? Are blackheads making it worse for you? Tried everything but did not get a complete satisfaction? We present you ways on how to remove blackheads using hydrogen peroxide which is simple yet effective in giving you a clear skin. Harsh environment, changing hormones and unbalanced food add to the skin issues which add to the drama. Tried everything but no results except the after effects! Use this trick and get amazed.
Thousands of products which claim the same theory but how many of them truly work? We have something which has proven to work miracles for your skin. Hydrogen Peroxide is the thing to swear on! Do not know how to use it for your skin? Our blog is about how to remove blackheads using hydrogen peroxide. If you have those black dots which are not leaving your skin then surely try this! After few attempts, you will surely see visible results.

What Are Blackheads? How Are They Formed?
Blackheads are a skin condition where the pores get clogged due to dust or dirt or oil. The skin has oil glands which secrete oil for moisture purpose but it's over production results to blocking of pores by sticking to the epidermal cells that shed off as dead skin cells. They can turn the skin blackish or brownish in color.
Blackheads are mostly seen on the T-zones covering your nose & forehead mostly with other being cheeks and chins. The causes of blackheads are hormone imbalance, certain medications, fried and junk food, heavy sweating, poor hygiene, improper removal of makeup or usage of cosmetic etc. The reasons are many but keeping up with a good skincare routine is the demand of the hour. They all add to the accumulation and production of oils which block the pores causing them to enlarge and blacken.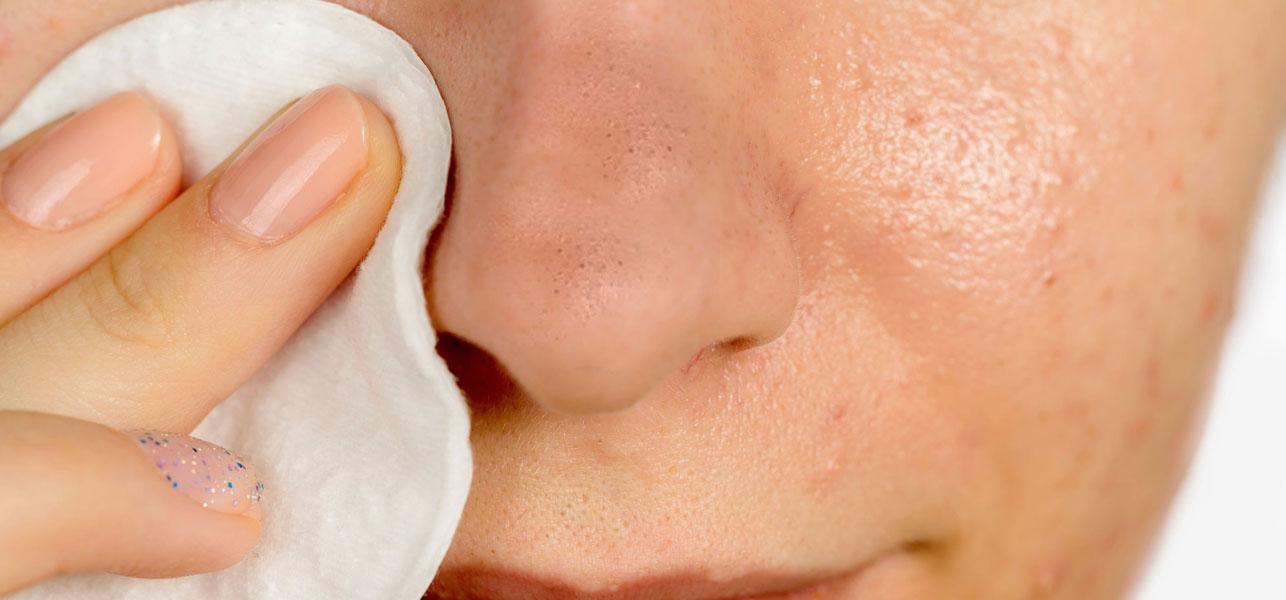 What is Hydrogen Peroxide? How is It beneficial?
Hydrogen Peroxide is a colorless liquid which is usually used as an oxidizer, bleach and for disinfectant purposes. It is vivacious if compared to water as it has one more oxygen atom. They have been largely used for medicinal purposes, cosmetic purposes and as a disinfectant. The benefits associated with Hydrogen Peroxide are as follows:
Heals cuts and wounds.
Prevents and cures various infections like bird mites infection and sinus etc.
It is of great dental use. You can use it as toothpaste or a normal mouthwash or a disinfectant for the brush to keep away from germs. If you have toothaches, this is good for you.
You can use it for laundry purposes as they remove the stains and as well sanitize them.
Soak your vegetable in it and kill the germs, bacteria causing illness.
It has been helpful in curing foot fungal.
Add to the bathtub for a detoxifying bath.
Tips To Remember!
Hydrogen peroxide is a good way to have a clean skin but is cautious while you use it for your skin. In the end, it is a chemical which is going to work on your skin.
Never over scrub or exfoliate as it could leave the skin to sensitize and may irritate you afterward.
Avoid any kind of contact with the eyes and rinse off immediately if it does. It irritation persists then contact your doctor.
It is advisable to test it on a small area first to check if it is suitable for your skin.
If you have sensitive skin, then take it as per doctor's advice as it worsens the condition of you.
Thinking of using a cream version then do it as per instructions.
The liquid state should not exceed 3% in liquid and 1% in cream or else you have to dilute it with water as it indicates higher chemical concentration.
Steps To Utilize Hydrogen Peroxide To get Rid of Blackheads
We bring you ways on "How to Remove Blackheads Using Hydrogen Peroxide" which will help you get a clear and radiant skin which is flawless. Just follow these simple steps and get the desired results of a beautifully clear skin:
Wash you face with a mild cleanser and gently pat dry. If you have makeup on, then use a makeup remover first. Thoroughly cleanse the surface for a good effect.
Using a scrub or exfoliating mask or home remedy for exfoliating, gently scrub your face in a circular motion using your finger. Be very gentle and never be harsh as it can cause irritation and dryness afterward.
Wash your face properly.
Make a mixture of hydrogen peroxide and water. Make sure that it is less or equivalent to 3% only.
Use a cotton ball and apply only on the affected areas.
Avoid the eyebrows and hairlines as they can bleach them.
Keep it for minimum 30 minutes or maximum overnight as per your choice.
Moisturize the face using an essential oil for maintaining the hydration and keeping it soft and smooth.